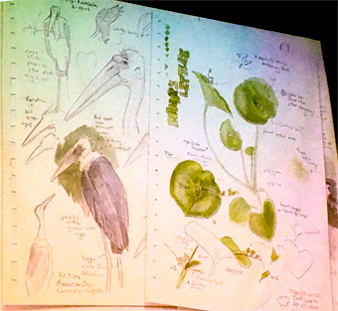 Devoted naturalist and illustrator extraordinaire John Muir Laws was the keynote speaker at the 2016 Guild of Natural Science Illustrators (GNSI) Conference at UC Santa Cruz. (Go Banana Slugs!) Laws is a gifted teacher and walked us through his field sketching process and data visualization strategies for illustrators.
The author of the definitive guides, The Laws Guide to Drawing Birds, and The Laws Guide to Nature Drawing and Journaling, he notes that relying on photos impairs your memory and that drawing has a more powerful effect on memory than writing. Laws recommends using writing and drawing together to create a deeper engagement with the subject.
In the field, Laws searches for patterns of wonder and beauty, and looks for the unexpected. His starts sketching the action first, and then adds in the environment. Nature journals are usually a form of species accounting, and while sketching, he also looks for quantitative information and records data. "Getting quantitative will change how you see and observe and gives you a whole set of tools–visual, verbal and quantitative."
For both budding and more advanced naturalists, Laws recommends:
Add metadata: Jot down the date, weather conditions, temperature in the corner of your page.
Change Scale: Zoom in or out to change what you observe. Changing scale helps you see more behavior in nature.
Make a Collection: Creating and working from a collection, like a set of leaves or flowers, helps you make different types of observations and draws out contrasts. Narrowing your focus also helps you see more.
Create Comparisons: Inspired by economists, comparisons highlight details like color and texture.
Look for Narratives: Capturing changes over time, like changes in feeding posture, tells a visual story. By looking for a timeline, you can make sequences visible.
Make maps and create cross sections: Creating a side view or cross section will change your perspective and give you a bigger picture.
And a few points to keep in mind while working in the field:
Your journal is a place to engage more deeply with the world around you. Use it to ask questions and give shape to your thoughts. Externalizing your thinking makes you more curious, a better observer, and changes how you pay attention. Your conclusions don't have to be correct, but the process of trying to make sense of the world through observing and sketching is transformative and it will make you a stronger illustrator.
You can learn more about Laws, his books, and see his remarkable body of work (seriously when does he sleep?) at johnmuirlaws.com.